You have been invited to a wedding, and you are not confident about what to dress in. Usually, dresses for wedding guests are clothes that can be overwhelming to pick since there are so many of them. Aid is at hand, we're now sharing some tips on how to dress appropriately for the occasion from SSENSE.  SSENSE is an international online retailer known for its directional selection of over 300 brands which are sold across the world.
Dress according to the season
The season and the place where the wedding will be held are two important factors you have to consider. For example, wearing a dress with bright colours and floral ornaments is perfect for the summer season.
The motif of the wedding should be followed as well. There are some invitation cards which will indicate the exact attire you should wear. What's significant is that you have to meet the standards or follow the specifications expected.
For semi- formal weddings, for a morning wedding ceremony, dress in lighter colours. Your clothes must be somewhat less official than what you usually wear to a wedding held in the evening. Ladies could wear cocktail dresses or this black ruffle mini skirt by Moncler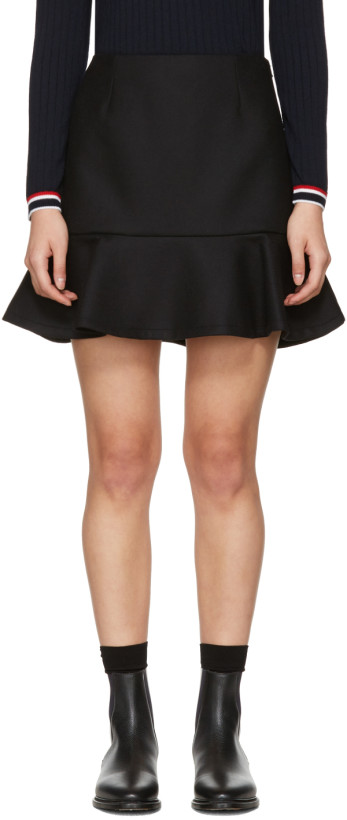 Flowery patterns also work fine in summer. Men can opt for a suit or sports coat, we've found some awesome menswear by Thom Browne at SSENSE.
If a wedding is in the sunset and the dress code is not specific, men can wear dark suits while women can wear skirts, suits or dresses. Because the occasion is in the evening, pick stylish and gorgeous fabrics. Ladies can wear more decorative jewels than they would sport to a morning or afternoon wedding. They could line up their dress with an excellent evening handbag, check out these gorgeous items from Saint Laurent.
If the invitation stipulates cocktail dress, dress in what you would wear to a fashionable party. Men must dress aptly – tuxedos are a no-no here. Women can wear stylish clothes. Flowery or overly multi hued patterns are not an excellent idea.
For formal and evening weddings, there are many choices that a woman can pick. She can go for a long dress and fashionable. Additionally, wraps are also perfect to use during evening weddings. Jewellery or other ornaments are excellent choices as well. Men are recommended to wear a dark suit with a tie if the wedding is in the morning. On the other hand, formal and evening weddings work best if a man wears a tuxedo accompanied with a black tie.
Some women wonder if they can wear shorts to a casual wedding. We would tend to advise against it. You would be far better off in a cute skirt and a sleeveless polo shirt if the wedding is super informal. No matter how casual the wedding may be, a guest should always look as though they put in the effort to look nice for the event.
It's not every day you get to go shopping for the wedding. At SSENSE they can make you the best-clad guest in any wedding with their perfect wedding style outfits. Whether you are going to the country for countryside nuptials or attending a modern metropolitan rite, they have the ideal outfit for everyone.